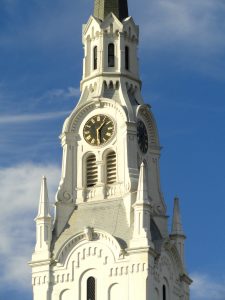 We are back in our building for Sunday services in the sanctuary at 10:30 AM.
Weekly Prayer Meeting is held in-person at the church in the 1642 Room at 7 PM on Wednesday and Bible Study is in the 1642 Room at 7 PM on Thursday. Participants also can join the Wednesday evening Prayer Meeting online by contacting info@1stwoburn.org. This is the most important meeting of the week at our church. "Ask, and it shall be given you; seek, and ye shall find; knock, and the door shall be opened unto you."
You also are invited to join Pastor Freddy in prayer at 9:30 AM before the Sunday worship service.
Important Note: Live streaming of Sunday worship service is temporarily unavailable but will be reinstated soon. Please consider joining us in-person in the church's spacious, airy sanctuary and check back for the return of our online broadcast!
---
A Church for Believers Across the Eras
The First Church of Woburn was established in the same year as the founding of the City of Woburn in 1642, but the Church had a deeper founding upon the Eternal Rock, Jesus Christ.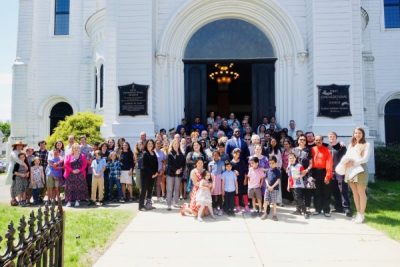 We invite you to experience the transforming power of God's grace, peace, and love through Jesus Christ our Lord.
Worship the Lord with us right here in our historic sanctuary every Sunday at 10:30 AM. Join us for a weekly Prayer Meeting on Wednesday evenings at 7PM and Bible study every Thursday at 7 PM at the church or through Zoom.
Contact us at any time to get answers to your spiritual needs, especially as concerns about COVID persist.
When more of our in-person meetings resume, find out about these special events, including our vibrant men's and women's ministries.
We look forward to sharing this journey of faith in Jesus with you!
Regular Events
Bible Study
In-Person in the church and online through Zoom at 7:00 pm on Thursdays in the 1642 Room. Meeting ID 614 211 064 (or dial 929-205-6099 for voice only)
Wednesday Evening Prayer Meeting
Every Wednesday evening at 7 PM in-person at the church in the 1642 Room or online. Contact info@1stwoburn.org to join online.
Men's and Women's Breakfasts [To Be Resumed]
Saturday mornings monthly except for summer months (check our events page)
---
Please visit our Events page to confirm dates and times or to find out about special holiday events.
Follow us @firstchurchwoburn